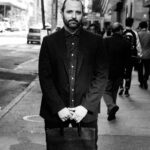 August may be the last official month to take that summer vacation, but don't give up on finding excuses to travel year round! This month, we're privileged to hear from Victor Sanz, Creative Director at TUMI luggage. Because I draw inspiration from multiple sources and people, Victor was someone I long have admired not just from the design industry but from our days back at our alma mater, Pratt Institute. Not only did Victor share some of his perspectives on the hospitality industry, he also shared his personal insights on his creative process along with a few career/life tips. Even though Victor focuses on product design and not interior design, it's great to know we are both part of the hospitality family. As creatives, we both want to create mesmerizing experiences for our clients!
AJC DESIGN: Can you describe your role at TUMI?
Victor Sanz (VS): I am the Creative Director at TUMI. My day is always filled with a mixture of both creative and business with my mind and hands always moving and meeting with my partners to push the brand forward. My workday definitely shifts depending on which team I am meeting with. We may be focusing on marketing for our next big collaboration or maybe I'm working with the design team in the studio refining the season's collection.
AJC DESIGN: Given the decline of travel in 2020, how has TUMI shifted or pivoted in the last year?
VS: While TUMI is known for its strong travel heritage, everyday bags and essentials have been a core part of our range for a long time. We create high performing products to elevate all journeys and life on the move. The essence of the TUMI brand is that we are always moving forward, pushing boundaries, constantly evolving and exploring how people interact with the world. In that sense, last year was no different – we are responding to the changing habits and lifestyles of our customers all the time. This ethos allowed us to be well prepared for the shift in people's movements.
AJC DESIGN: Are there any new projects that you are excited to launch (and can share with us)?
I was very excited to jump into 2021 as we have a lot of very exciting projects lined up. We kicked off April with launching our collaboration with McLaren, which is a brand I have admired ever since I was a kid. It was quite a special experience with their team – we're two like-minded brands who share the same values—unparalleled quality, technical innovation and design excellence. With McLaren's advanced technology and our top-of-the-line materials, our gear can tackle the most arduous excursions and still effortlessly translate into daily life.
AJC DESIGN: What has been your most favorite product you've designed at TUMI?
VS: I use and test all the bags and travel pieces, my current favorite is the new 19 Degree Aluminum Trunk . The silhouette provides a completely different packing solution. It has innovative collapsible interior dividers that act like shelves so that you are able to pack in a highly organized fashion. It's just like a portable closet – and it looks fantastic in your living room, too. I just recently used it on a road trip and it was amazing to not have to unpack and just have the piece as a closet!
AJC DESIGN: How has your creative process been modified with your WFH situation?
VS: Last year has been exceptionally tough but has also made us even more creative and collaborative.
In the past I used to get inspiration from my travels but over the past year I'm finding creativity by digitally connecting with artists, musicians, architects, and other creatives across the globe who are doing interesting things and are pushing the boundaries of their own industries.
AJC DESIGN: I'd love to know if you find yourself stuck in the creative process, how do you reset?
VS: I walk away from the problem and let my mind wander for a bit. I also give myself the creative freedom to explore radical approaches to the design problem, so that I can be more forward and find new sparks.
AJC DESIGN: Where do you pull inspiration?
VS: The speed at which the world has digitized and progressed in showcasing what individuals are doing has also greatly interested me. It enabled me to easily interact with artists, musicians, architects, and other creatives across the globe to keep the ideas flowing.
AJC DESIGN: Since I design hotels, I have to ask, What is your favorite hotel?
VS: Ritz Carlton Paris and the Upper house in Hong Kong. The service is what can make or break a great stay.
AJC DESIGN: Any words to live by?
VS: Enjoy what you have and the moment you are in and don't worry about what you do not have.
AJC DESIGN: What advice would you give to someone starting out in your industry?
VS: One of the things I wish I could've realized as a younger designer that I know now is the path of design is not always a straight one. There are many complications in designing and with design there's more to the creation than just pen to paper. There are many levels, layers and people involved to create one piece. Having an in-depth understanding of all those individuals and how they interact with the development is crucial to success. This takes time to understand.