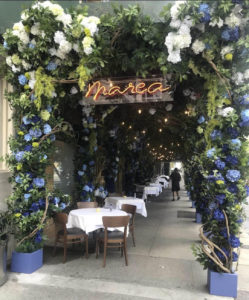 Dining out in New York City is more than a past-time. It's part of New York's culture, its economy, and its heritage. In the hospitality industry, restaurants are not just places to eat. They are places of coveted experiences, with interiors designed with as much, if not more exquisite attention as the entrees on the menu. Restaurants are where I go to get inspired for any upcoming projects.
Now that COVID-19 has made indoor dining in the City a distant memory, I can't help but express my sadness about what's been lost. Instead of signature décor like cloth napkins and branded multiple-page menus, many of our dining experiences now feature disposable menus, paper napkins and plastic silverware. But enough about what's missing.
Luckily, outdoor dining has saved the city and lined the sidewalks from the Hudson to the East River with an overflow of diners, looking to enjoy the plethora of culinary options that the city has to offer. After being able to get a reservation for two outside (sidewalks aren't built for large tables) without a 48 hour-notice, I'd like to share what works for restaurants looking to play-up their interior dining space with a spot just beyond their entryway façade.
Scaffolding Scenery: Sure the tables and chairs might be under a metal scaffolding, that pre-COVID, would have been an eyesore. However, some ways to soften the metal imagery would be to cover the scaffolding poles with curly willow branches, wisteria vine, camelia leaves and hydrangeas that cocoons over the ceiling space, much like the experience at Marea across from Central Park. Creative lighting and in particular, picado banners, do a great job of accentuating the design décor of the restaurant like we have seen at La Esquina in Soho.
Faux Walls: Retaining walls around an outdoor dining space are a relatively easy install option to create a more intimate dining experience. These "walls" could be comprised of flower beds, plywood, sand bags or even something more imaginative, like painted car tires. Having those visual boundaries of a designated dining area as well as greenery, takes the dining experience from, "I'm eating over-priced food on a folding chair and folding table right" to "Luckily, I scored a great table on a private garden patio at one of my favorite restaurants."
Colorful Sunshades: New York City weather can be very unpredictable. One minute, it could be pouring rain. Another minute, the sun is melting you. That's why I love seeing restaurants that choose to class-up their outdoor space with patio parasols, canopies, pop-up tents that are bold, colorful or playful. And the best part is that you don't have to give your friends the cross streets anymore. Instead you can say, "Meet me seaside, I mean street side, under the bright orange umbrella with the Aperol Spritz."
While I'm optimistic that New York City's indoor dining scene will recover in the next year, there's a lot to appreciate about what's happening in plein air. Restaurants are doing everything in their power to make restaurants feel like home again and keep delivering the same quality food. So, let's be patient, supportive and most of all, attentive to the creative details our favorite restaurants are serving up. Bon Appetit!