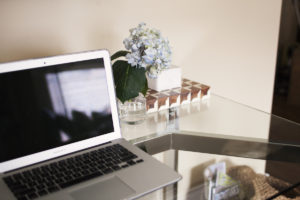 Embracing the Spirit of Spring
We waited patiently for the last few months for winter to release its chilly grip.  While warmer temperatures used to be all it took to lift our spirits, during this period of change and uncertainly, we can't lose hope. We must look forward to the day when we can return to more normal times and join together as community, not just virtually but in person too! Spring has always been a time of rebirth and this year is no exception.  You turned a new leaf at the start of 2020 and now, in light of these challenging times, it's more important than ever to reset and reassess your goals and perhaps even make new ones, that align with your values, your passions, and your work and life priorities. 
Less is more
Since the majority of us have been asked to work from home for the time being, let's turn that into a positive.  Go ahead and think about your ideal work environment. Just think of how gratifying and refreshing it is to create and design a home office to make your work routine productive, playful, and inspiring. 
My spring inspiration comes from the celebrated Mies van der Rohe, who adopted the "less is more" approach to architecture, dating back to his design practice in the 1940s.  I cannot stress this enough when it comes to working more positively and productively. At AJC Design, it's important for me not to feel overwhelmed when it comes to design strategies. That's why I find it so helpful to eliminate the unnecessary noise.  Decluttering makes you more efficient and keeps you organized. But more than that, disorganized workspaces can increase your stress level and interrupt your professional focus, which we all need help managing right now. So I'm using this time to organize my files, clean out the 'junk drawer', and update an inspiration mood board to prompt new avenues of creativity and even business. 
Allow your mind to blossom
Once your ducks are neatly in a row, you'll be amazed at how much easier, faster, and more enjoyable your work becomes.  Making your physical space more inviting frees up your mind to focus on those big projects. Once I've refreshed and reorganized my workspace, it really enhances my overall mood and design productivity, allowing me to focus on what I can accomplish and anticipate for the remainder of 2020. 
Creativity is more important now than ever and each day, I commit to creating my new reality and embracing new challenges.  By being creative with my routine and welcoming challenges, I've experienced moments of enlightenment that inform my future design work. And for me, enlightenment equals empowerment.
No matter what the weather looks on the outside or even inside of our minds, we each can start spring with hope and optimism.  Condense, consolidate, and use this time to allow your mind to blossom with new ideas.  Continue to share your compassion with friends, family, and colleagues. Don't lose sight of what you've achieved so far in 2020 and know that together, we'll Spring to higher grounds in all realms of life.